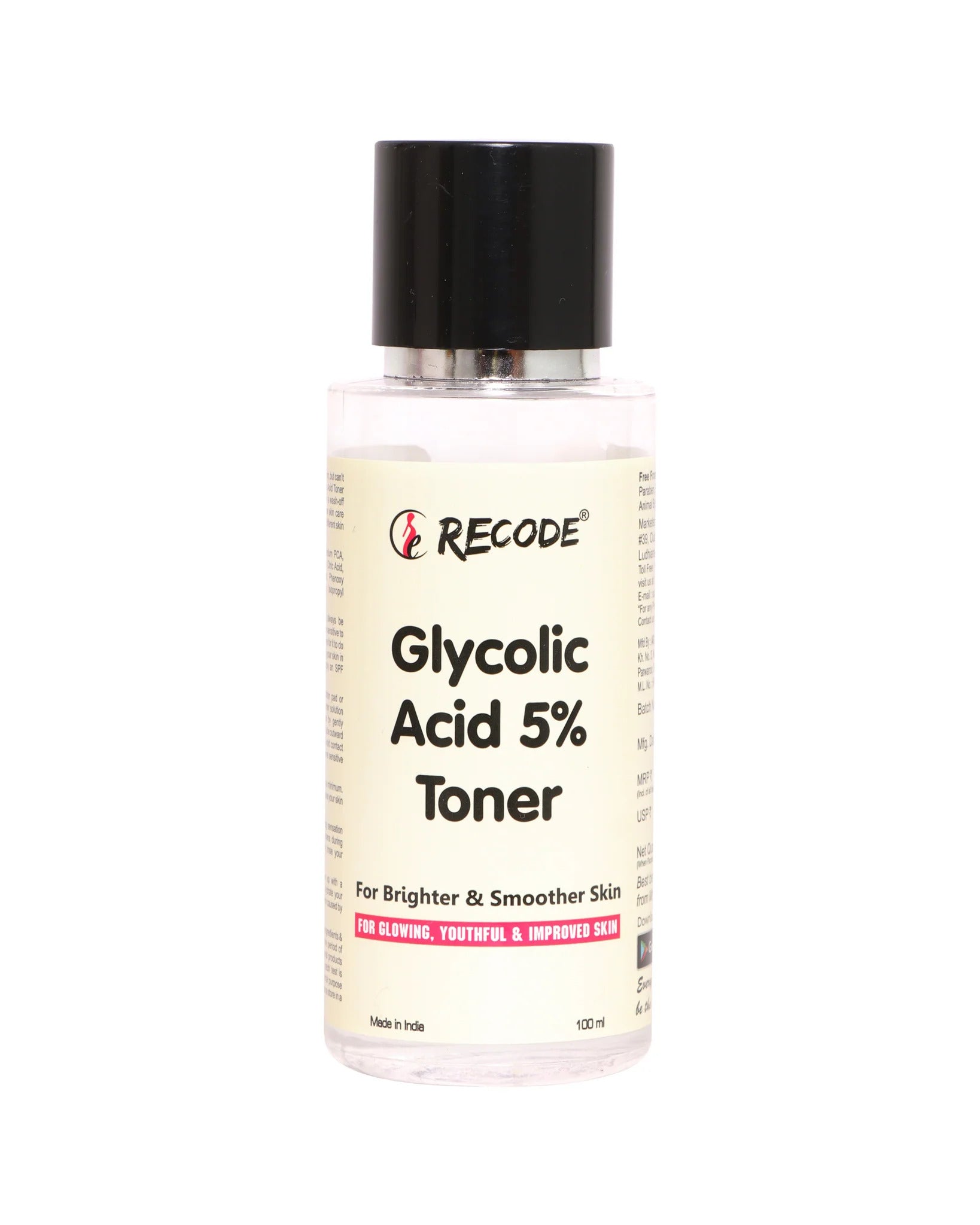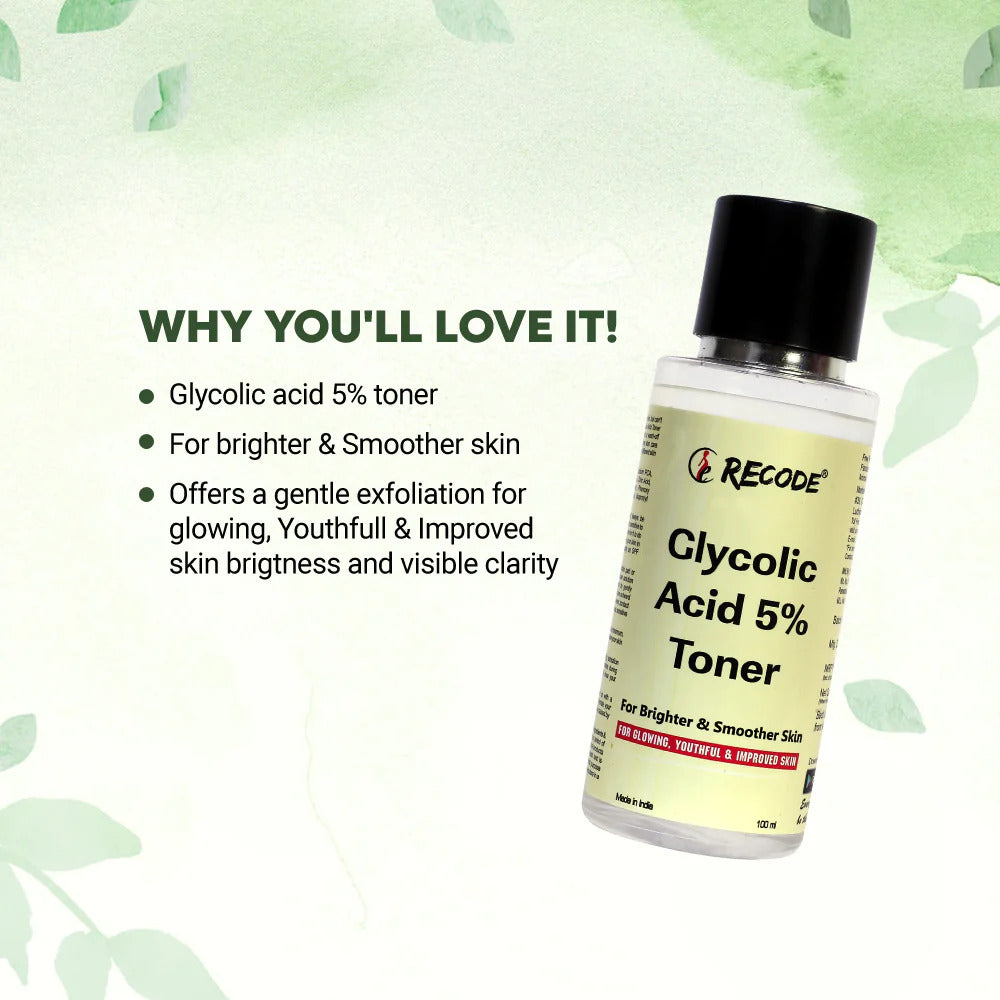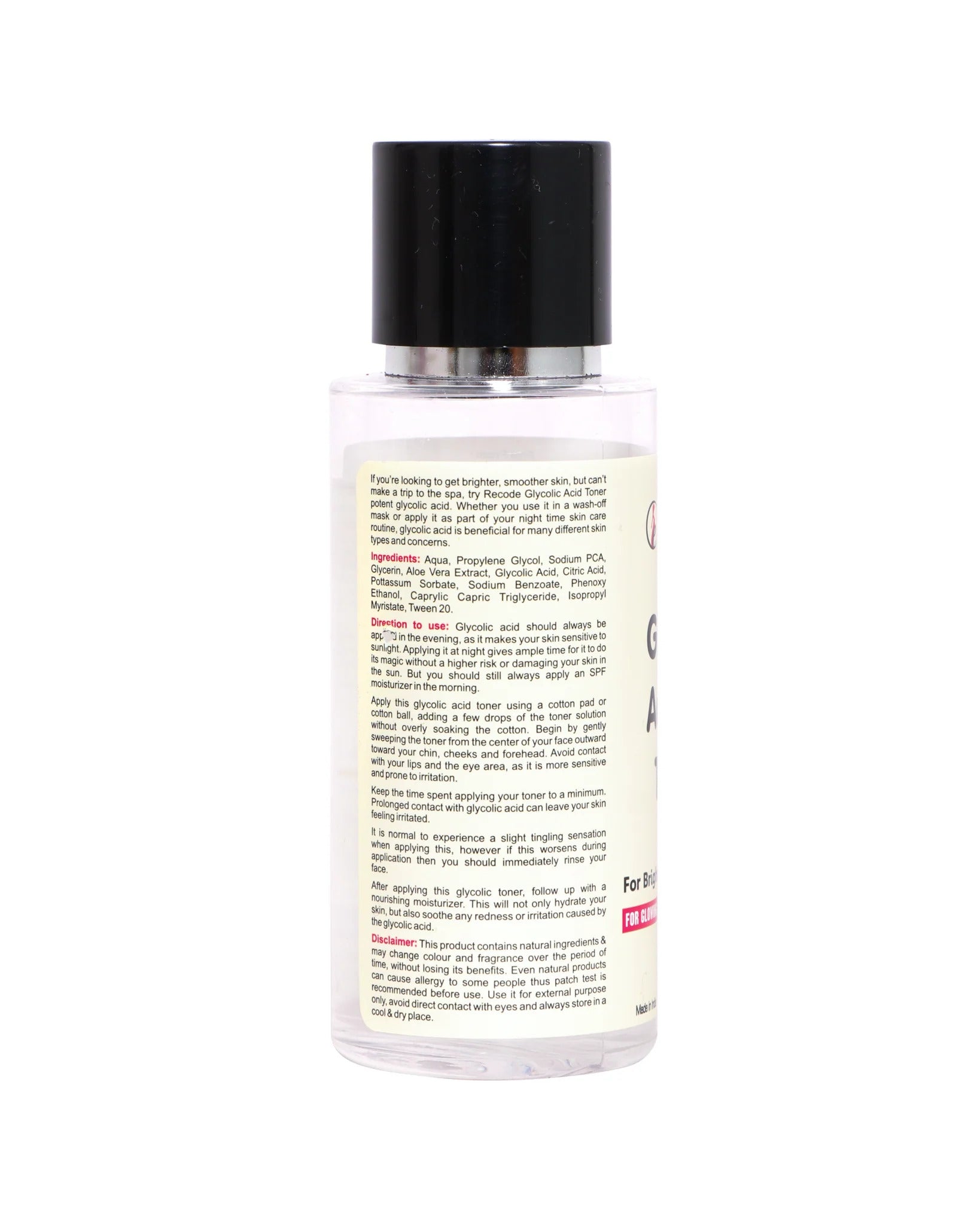 Recode 5% Glycolic Toner -100ml
Sale price
Rs. 435.00
Regular price

100% Original & Authentic Products
148 people are viewing this right now
Recode 5% Glycolic Toner -100ml
Sale price
Rs. 435.00
Regular price
Glycolic Acid 5% Toner
For Brighter & Smoother Skin
For Glowing, Youthful & Improved Skin
Made in India
100ml
If you're looking to get brighter, smoother skin, but can't make a trip to the spa, try Recode Glycolic Acid Tonner potent glycolic acid. Whether you use it in a wash-off mask or apply it as part of your night time skin care routine, glycolic acid is beneficial for many different skin types and concerns.
Aqua, Propylene Glycol, Sodium PCA, Glycerin, Aloe Vera Extract, Glycolic Acid, Citric Acid, Pottassum Sorbate, Sodium Benzoate, Phenoxy Ethanol, Caprylic Capric Triglyceride, Isopropyl Myristate, Tween 20.
Free From 
Paraben, Phthalate, Silicone & Animal Byproduct
Glycolic acid should always be applied in the evening, as it makes your skin sensitive to sunlight. Applying it at night gives ample time for it to do its magic without a higher risk or damaging your skin in the sun. But you should still always apply an SPF moisturizer in the morning.
Apply this glycolic acid toner using a cotton pad or cotton ball, adding a few drops of the toner solution without overly soaking the cotton. Begin by gently sweeping the toner from the center of your face outward toward your chin, cheeks and forehead. Avoid contact with your lips and the eye area, as it is more sensitive and prone to irritation.
Keep the time spent applying your toner to a minimum. Prolonged contact with glycolic acid can leave your skin feeling irritated. 
It is normal to experience a slight tingling sensation when applying this, however if this worsens during application then you should immediately rinse your face. 
After applying this glycolic toner, follow up with a nourishing moisturizer. This will not only hydrate your skin, but also soothe any redness or irritation caused by the glycolic acid.
Disclaimer:
This product contains natural ingredients & may change colour and fragrance over the period of time, without losing its benefits. Even natural products can cause allergy to some people thus patch test is recommended before use. Use it for external purpose only, avoid direct contact with eyes and always store in a cool & dry place.