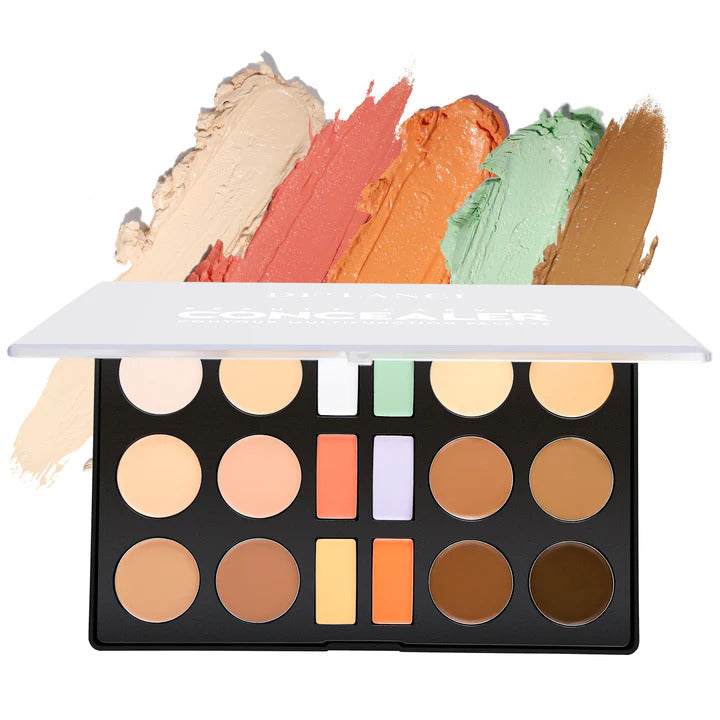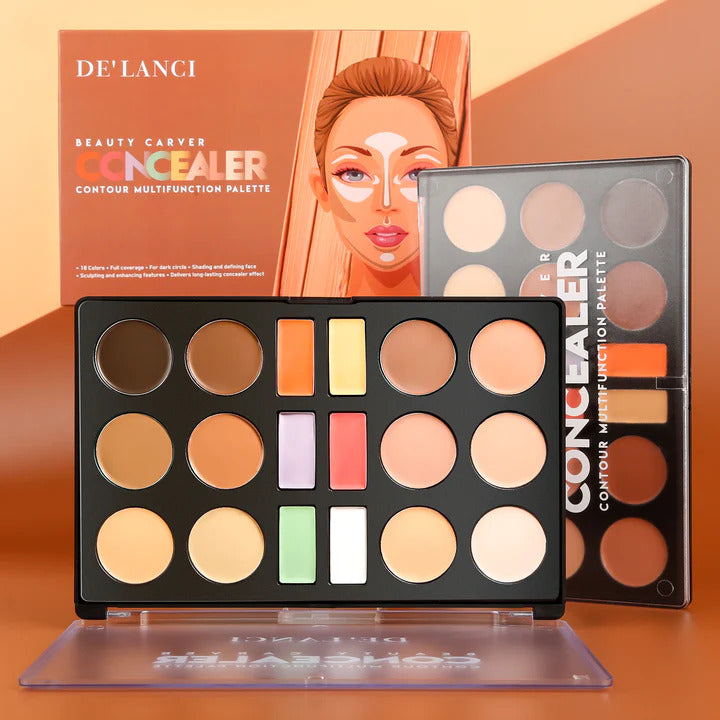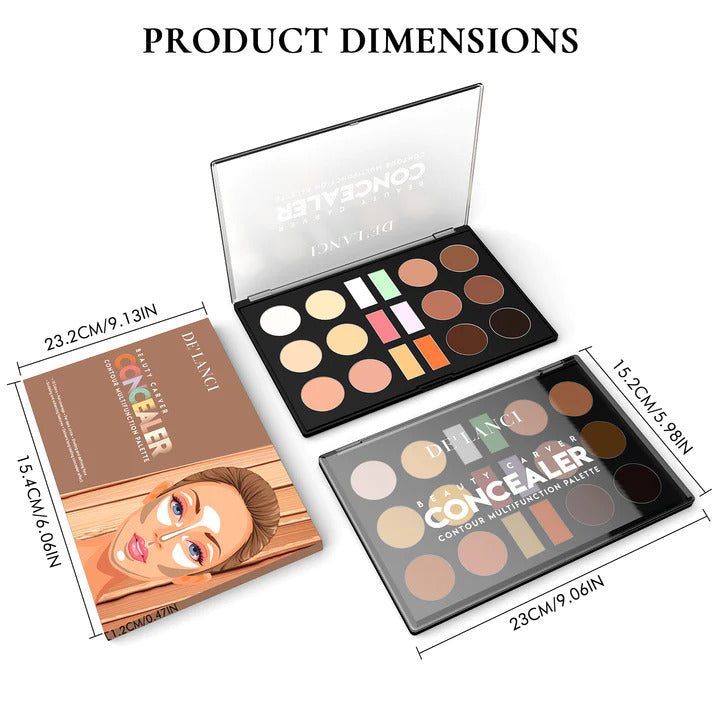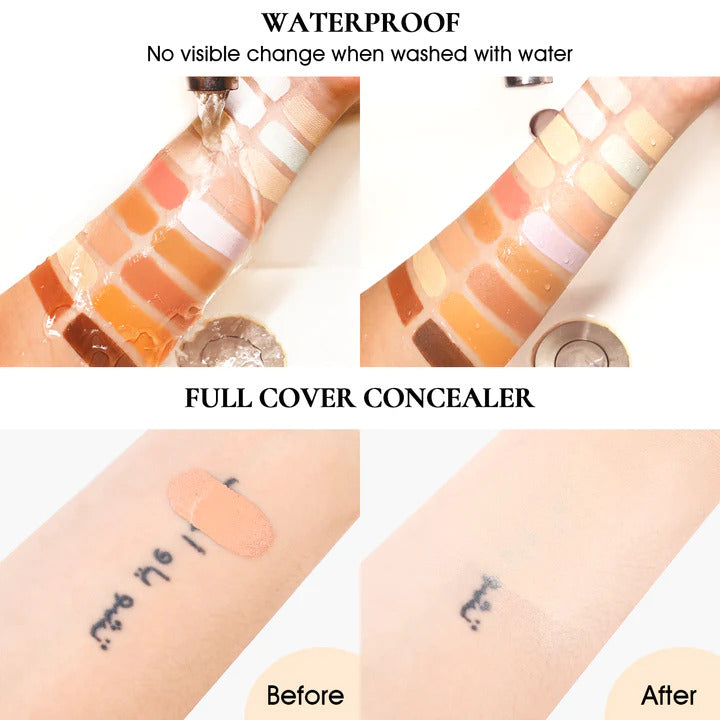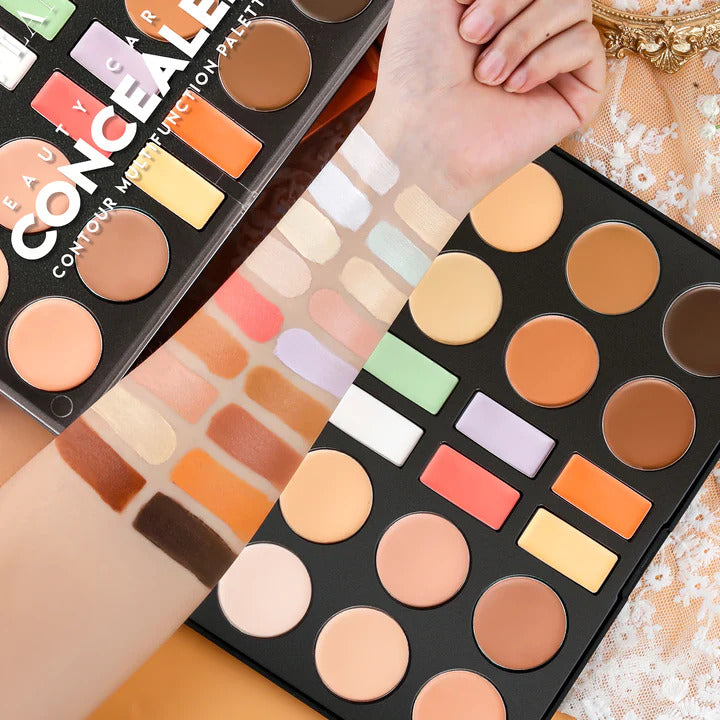 De'lanci Beauty Carver Concealer Contour Multifunction Palette
Sale price
Rs. 999.00
Regular price
Rs. 1,999.00

100% Original & Authentic Products
138 people are viewing this right now
De'lanci Beauty Carver Concealer Contour Multifunction Palette
Sale price
Rs. 999.00
Regular price
Rs. 1,999.00
Sculpt your face in minutes with the outstanding De'Lanci Beauty Carver Concealer Contour Multifunction Palette! This cream concealer contour palette is one-of-its-kind on the market with 12 shades for 6 color-correcting, 12 contouring, and highlighting. It's the best cream contour palette for those with fair light mature, light-medium, pale, and of course dark brown skins. The color-correcting concealing colors are good to go for acne, bruises, dark spots, redness, and dark circles on the face. The palette with 18 essential cream-based colors is just perfect for use as a foundation, contour, highlight, concealer, cream blush, and eyeshadow base. 
BENEFITS OF USING BEAUTY CARVER CONCEALER CONTOUR MULTIFUNCTION PALETTE
All-in-one makeup kit:

 

The Beauty Carver Concealer Contour Multifunction Palette serves as your complete makeup companion with its cream-based colors for contouring, concealing, highlighting, cream blush, as foundation primer and foundation, and as an eye shadow base.
18 colors palette:

 

The versatile palette comes with 12 contouring and 6 concealing or color-correcting shades that can also be used as an eyeshadow base or blush colors.
Perfectly blendable formula:

 

The super-light cream-based colors blend in perfectly on the skin while using fingertips, sponge, or brush without being sticky.
Suitable for all skin tones:

 

The cream concealer palette is suited for all skin types and tones ranging from fair to dark mature to young ones.
Skin-friendly formula:

 

It's the best cream contour palette on the market with Shea Butte enriched formula that pampers the skin when applied to it.
Safe vegan product:

 

Like all other De'Lanci products, the Beauty Carver Concealer Contour Multifunction Palette too is completely vegan, cruelty-free, and hypoallergenic.

HOW TO USE THE BEST CREAM CONTOUR PALETTE
Step 1: Make sure that you have clean facial skin that you have also moisturized for the best effect of the product.
Step 2: Use the colors of the Beauty Carver Concealer Contour Multifunction Palette to cover the skin as foundation and concealer or just as a concealer depending on the skin tone.
Step 3: Pick a shade that is a couple of shades darker than your normal skin tone and use it for contouring and sculpting your features along the cheeks, nose, temples, and jawline.
Step 4: Use your fingers, a sponge blender, or a blending brush to dab the product in and blend for the play of a shaded appearance that sculpts and sharpens naturally.
Step 5: You can use the colors as a bronzer for a naturally sun-kissed minimalist look or use other shades to blush up and add a flush of color to the cheeks.
PRO TIPS TO USE CREAM CONCEALER AND CONTOUR PALETTE
Make sure that you conceal and camouflage all flaws first before you start contouring any part of the face.
To conceal like a pro, use a product that is a shade lighter than your foundation and apply only on the spots that need to be covered.
Make sure to dab your concealer gently with the finger, sponge, or brush for the best naturally-looking coverage.
Make sure to use a concealer color to cover the redness and spots on the nose for flawless-looking skin.
Use a light cream blush color on the cheeks for a natural flush of color to your skin for everyday makeup looks.