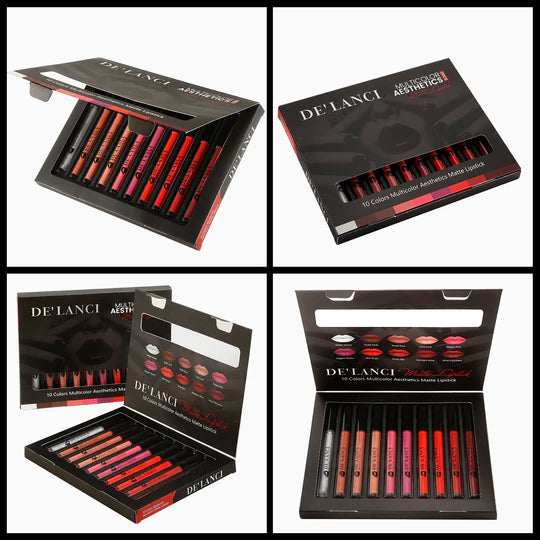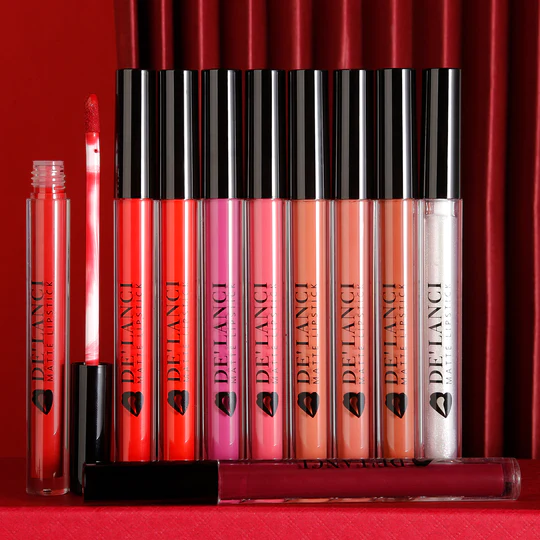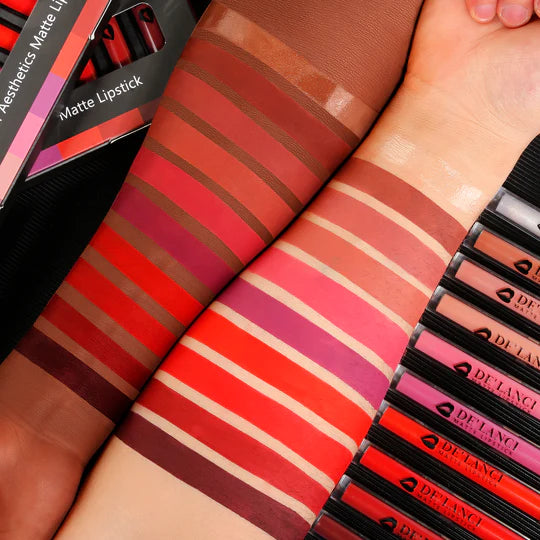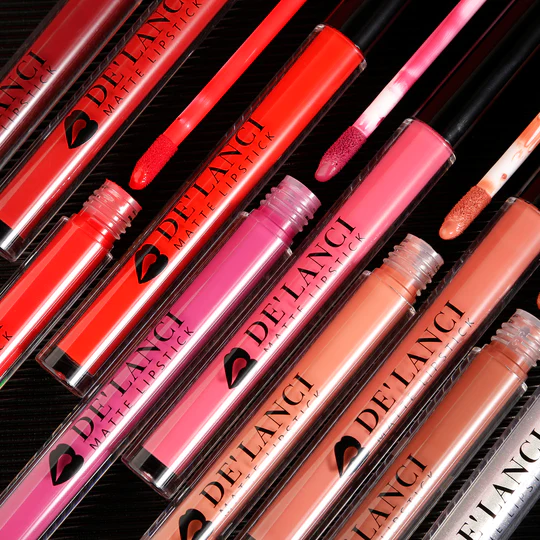 DE'LANCI Aesthetics Matte Lipsticks 10pcs/set
Regular price
Rs. 1,299.00
Sale price
Rs. 1,299.00
Regular price
Rs. 1,999.00

100% Original & Authentic Products
145 people are viewing this right now
DE'LANCI Aesthetics Matte Lipsticks 10pcs/set
Regular price
Rs. 1,299.00
Sale price
Rs. 1,299.00
Regular price
Rs. 1,999.00
Delve into the fascinating colors of the DE'LANCI matte lipstick set of 9 mattes + 1 transparent pearl lip gloss! There's a color for every occasion and a shade to match all styles in this mate lipstick combo set. Match a color from the collection with your skin tone, or makeup needs; this collection of the most popular lipstick colors will cover them all. 9 mattes + 1 lip plumping gloss is ideal for personal use, or gifting apart from hard-core professional use for makeup artists!!!
Benefits of using the De'Lanci Matte Lipstick Set
9 popular matte shades

: This inimitable 

matte lipstick combo set

 gives off a high-quality, velvety finish of lip colors in popular shades; pink, rose pink, berry purple, red, brown, or nude, it has everything to suit all occasions and looks.

Includes 1 gloss

: This is a unique collection of lipstick set on the market that gives you 1 lip-plumping gloss with the 9 matte colors; top up any matte color with the gloss for the super-shine effect.

Highly-pigmented lipstick colors

: Each of these lovely lipstick colors give off a high saturation finish that is also non-creasing, anti-dirt, non-stick, waterproof, and long-lasting.

Care for your lips

: The lipsticks are made using a special lip-caring formula with proven lip-nourishing ingredients like vitamin E, jojoba oil, Shea butter, safflower extract, licorice, and the like with anti-oxidizing effects.

Collagen-stimulating lipstick colors

: The gloss pearlescent lip glaze contains collagen-stimulating palmitoyl tripeptide-1 for a natural lip-plumping effect on its application.

Vegan, and cruelty-free

: Each of the lip colors are completely vegan, and cruelty-free, with no parabens, they are good to go with all skin types and skin tones.

How to use DE'LANCI Matte Lipstick Set

Step 1: Give your lips a scrubbing and exfoliating treatment and follow up with moisturizing for a smooth and bright look.

Step 2: Pick a lipstick color that complements the type of look you want to wear or that goes with the outfit.

Step 3: Outline the outer shape of the lips with the color applicator in the tube, and then fill in the center for an evenly matte look.

Step 4: You can also choose to color the centre with a lighter shade for a gradient effect depending on the look you want to carry.

Step 5: For evenings and night outs, gloss up the matte colors and pair up the shiny lips with complementing makeup and outfit.

Pro Tips for Using DE'LANCI Matte Lipstick Combo Set


Take care to smooth out aged and creased lips by applying a layer of primer on them for a charming look.
Make your lips look large and plumper by outlining them carefully outside the natural shape, and then lighten the color at the center.
Outline the lips carefully so that the upper and lower ends meet well at the outer edges for the perfect pout.
Take care to outline the lips using a natural or brown-colored lip liner, especially if you are a beginner with liquid lipstick, it'll save you a lot of trouble till you get steady hands.
Place a clean tissue paper over the lips after applying the lip color and dust a layer of powder over it to seal the pigment and make it long-lasting.

Frequently Asked Questions (FAQs)

1. Are all the colors in the DE'LANCI Matte Lipstick set give a matte finish?

The collection of DE'LANCI matte lipsticks contains 9 matte colors + 1 transparent pearlescent effect gloss; you can choose to apply the gloss as and when needed.

2. I am a beginner with liquid lipsticks, how should I apply the lipstick colors?

Each lipstick has an in-built applicator that you can use as a brush to apply the lipstick colors on your lips.

3. Can I use the colors of this matte lipstick set every day?

Yes. Our liquid lipstick matte finish set is made using a special lip-caring formula that contains known anti-oxidizing agents like Vitamin E, Shea butter, Jajoba oil, and more.

4. I have a dark skin tone; can I wear the colors of the DE'LANCI lipstick set?

Yes. The collection of this matte lipstick set will complement all Indian skin tones; you use the colors solo, or mix and match to create your unique shade!